Mariagrazia Fugini is Professor of Computer Engineering at Politecnico di Milano.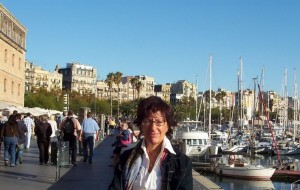 Her research interests are in Data and System Security, Information System Development, Co-Engineering of Security and Safety, Fraud Detection and Cyber Security, Service Co-Production for Public Administrations, and Smart Ageing Environments.
She has been a Visiting Professor at MIT, University of Maryland, Technical University of Vienna, University of Stuttgart, Universitat Politècnica de Catalunya (UPC), LAAS Toulouse and other Universities. She has a continuous cooperation with these and other Universities and Research Centers.
She is involved in National and International Research Projects on Information System Development, Risk and Adaptive Cyber Security, Co-Engineering Security and Safety of Smart Environments, Service Platforms for Social Care and e-Health, Big Data Analytics and Adaptive Service Platforms.
Teaching

:
085758 ICT TECHNOLOGIES FOR ENTERPRISE SYSTEMS (FOR STUDENTS IN MANAGEMENT  ENG.)
085914 INFORMATION SYSTEMS (FOR STUDENTS IN INFORMATION ENG.)
Research:
Publications can be found on Google Scholar and DBLP, amongst others.
Available Themes for Thesis: check http://fugini.faculty.polimi.it/?page_id=708
News and Events
CURRENT/RECENT:

Guest Co-Editor of "Software Architectures for Context-Aware Smart Systems", Journal of Information and Software Technology, 2019. CASA@ECSA2017-Special-Issue (CfP).
Track Co-Chair of Web2Touch track at WETICE 2018, Paris.
ICEIS 2018 (PC Member)
Active Projects
Seamless (SEnsoristica Avanzata e Machine LEarning per il monitoraggio Strutturale) Regione Lombardia "Smart Living", end 2017-mid 2019, working on data analytics.
Sistema Innovativo  Big Data Analytics- Progetto Competitività Cremona,  Regione Lombardia "Smart Cities" (April 2016- April 2018),  working on business analytics and on security . Presentation project BigData.
Thesis and stages are available  in the Projects:Themes for Thesis.
ICSRS 2017 (2nd International Conference on System Reliability and Safety)Milano Dec.20-22 (PC Member).
Co-Organizer of  Worskhop "Context-aware, Autonomous, and Smart Architectures" (CASA 2017 ) co-located with 11th European Conf. on Software Architecture (ECSA 2017, Cambridge, UK).
IEEE WETICE 2017, Poland  Program Chair. http://wetice2017.ue.poznan.pl/
HDSR 2017
IEEE Int.Workshop on Healthcare Data Security and Reliability (in conjunction with QRS 2017) , Prague, Czech Republic, July 25-29,  2017. 
http://paris.utdallas.edu/HDSR17/
Guest Co-Editor Special Issues 
Organization of Conferences
Web2Touch 2016 – Modelling the Collaborative Web Knowledge Conference Track @ the 25th IEEE WETICE Conference, Paris.  Track Co-Chair.

To Appear
Book to Appear: 'SISTEMAS DE INFORMACIÓN EN LA ORGANIZACIÓN', Piramide Editor, in Spanish, Feb.2018 (with R. Salvador Vallés and P.Maggiolini) https://www.edicionespiramide.es/libro.php?id=5199089