Mariagrazia Fugini is Professor of Computer Engineering at Politecnico di Milano.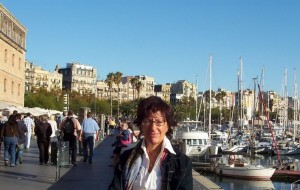 Her research interests are in Data and System Security, Information System Development, Co-Engineering of Security and Safety, Fraud Detection and Cyber Security, Service Co-Production for Public Administrations, and Smart Ageing/Working Environments.
She has been a Visiting Professor at MIT, University of Maryland, Technical University of Vienna, University of Stuttgart, Universitat Politècnica de Catalunya (UPC), LAAS Toulouse and other Universities. She has a continuous cooperation with these and other Universities and Research Centers.
She is involved in National and International Research Projects on Information System Development, on Risk and Adaptive Cyber Security, on Co-Engineering of Security and Safety in Smart Environments, on Service Platforms for Social Care, for e-Health and for Smart Aging/Working, and on Big Data Analytics Platforms.
Teaching

:
085758 INFORMATION TECHNOLOGIES FOR ENTERPRISES (FOR STUDENTS IN MANAGEMENT  ENG.)
Research:
Main publications can be found on Google Scholar and DBLP.
Available Themes for Thesis: check http://fugini.faculty.polimi.it/?page_id=708
News and Events
CURRENT/RECENT:

Guest Co-Editor of "Software Architectures for Context-Aware Smart Systems", Journal of Information and Software Technology, 2019. CASA@ECSA2017-Special-Issue (CfP).
Track Co-Chair of Web2Touch track at WETICE 2018, Paris.
Track Co-Chair of CASA Workshop 2018, with ECSA'18 Madrid, Sept. 2018.
ICEIS 2018 (PC Member).
Active Projects
Seamless (SEnsoristica Avanzata e Machine LEarning per il monitoraggio Strutturale) Regione Lombardia "Smart Living", Feb 2018-June 2019, working on data analytics. Thesis with Companies are available (check the thesis area).
Sistema Innovativo  Big Data Analytics- Progetto Competitività Cremona,  Regione Lombardia "Smart Cities" (April 2016- April 2018),  working on business analytics and on security . Presentation of project BigData.
Thesis and stages are available  in the Projects: Themes for Thesis.
ICSRS 2017 (2nd International Conference on System Reliability and Safety)Milano Dec.20-22 (PC Member).
Co-Organizer of  Worskhop "Context-aware, Autonomous, and Smart Architectures" (CASA 2017 ) co-located with 11th European Conf. on Software Architecture (ECSA 2017, Cambridge, UK).
IEEE WETICE 2017, Poland  Program Chair. http://wetice2017.ue.poznan.pl/
HDSR 2017
IEEE Int.Workshop on Healthcare Data Security and Reliability (in conjunction with QRS 2017) , Prague, Czech Republic, July 25-29,  2017. 
http://paris.utdallas.edu/HDSR17/
Guest Co-Editor Special Issues 
Books
'SISTEMAS DE INFORMACIÓN EN LA ORGANIZACIÓN', Piramide Editor, in Spanish, Feb.2018 (with R. Salvador Vallés and P.Maggiolini) https://www.edicionespiramide.es/libro.php?id=5199089