Avviso:
ll corso Sistemi Informativi 21-22 inizierà ON LINE il 13/9 sulla mia area Webex.
Il corso Digital Security Management inizierà IN PRESENZA in Bovisa (aula da definire) giovedì 16/9 ore 10.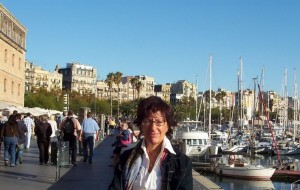 Office Address:
Building 20, Floor 1, Room 105
Dipartimento di Elettronica, Informazione e Bioingegneria
Politecnico di Milano
Piazza Leonardo da Vinci, 32
20133 Milano (MI), Italy
Phone Number: +39 02 2399-3624
Fax Number: +39 02 2399-3411
Email: mariagrazia.fugini at polimi.it
Mariagrazia Fugini is Professor of Computer Engineering at Politecnico di Milano.
Her Research Interests are in data and systems security, enterprise information systems, services for digital Public Administrations, risk and safety management, service co-production, and assistive technologies in smart environments. She is broadly interested in the intersection of security, safety, ethics, and citizens science through adoption of business intelligence and machine learning techniques, with a focus on leveraging geo-temporal-information analysis for decision making.
She is involved in national and international Research Projects on Web-based Information Systems, Risk and Adaptive Security in Smart Environments, Safety and Ethics, Platforms for Social Care, for e-Health, for e-Government, for Cultural Heritage, and for Smart Aging.
Current European Projects: WorkingAge (2019-2022).
She has been a Visiting Professor at University of Maryland, University of California-Berkeley, Technical University of Vienna, University of Stuttgart and Universitat Politècnica de Catalunya.
She has continuous cooperation with University of Maryland, UPC Barcelona, Luxembourg Institute of Science and Technology, CTI Renato Archer-Brazil, Research Council of Norway, Anna University Chennai- India, ICTL Spain.
Research Area:
Information Systems
Teaching 2020-2021:
Information Systems – Bachelor of Science in Computer Science and Engineering
Digital Security Management – Master of Science in Management Engineering
Activities / News / Events
Workshop Organizer: Context-aware, Autonomous and Smart Architecture Workshop (CASA 2021) (casaecsa.github.io) SUBMISSION June 15, 2021
Track Co-Chair W2T 2021, with IEEE WETICE, Bayonne, June 2021.
Associate Editor International Journal of Knowledge Science and Engineering,
https://www.inderscience.com/jhome.php?jcode=ijkse
Co-Editor Special Issue Information and Software Technology Journal, "Software Architectures for Smart and Adaptive Systems".
PC ICEIS 2021 http://www.iceis.org/
PC KEOD 2021, 13th International Joint Conference on Knowledge Discovery, Knowledge Engineering and Ontology Management, Malta, October, 2021.
Active and Recent Projects
H2020-SC1-DTH-2018-1 "WorkingAge" Project 826232 (Feb. 2019-May. 2022).
Seamless (SEnsoristica Avanzata e Machine LEarning per il monitoraggio Strutturale) Regione Lombardia "Smart Living", Feb. 2018-December 2020, working on "Data Analytics" and "Gesture Analysis". Thesis with Companies still available (check the thesis area).
Sistema Innovativo Big Data Analytics- Progetto Competitività Cremona, Regione Lombardia "Smart Cities" (April 2016- Oct. 2018), working on Business Analytics and on Security. Presentation of BigData Project . paper
Thesis and stages are available in the Projects: Themes for Thesis.
RECENT ACTIVITIES
Guest Co-Editor Special Issues
Text Books
Fondamenti di Sistemi Informativi
C. Cappiello, M.Fugini, P.Grefen, B.Pernici, P.Plebani, M.Vitali
CreateSpace Independent Publishing Platform, 2018
available at: https://www.amazon.it/dp/1725122200/ref=sr_1_20?s=books&ie=UTF8&qid=1536143801&sr=1-20&keywords=cappiello
Sistemas y Tecnologías de la Información en las Organización, (in Spanish), Ediciones Piràmide, 2018 M.Fugini, R. Salvador Vallés, D.Pagani, P.Maggiolini
available at: https://www.edicionespiramide.es/libro.php?id=5199089
Further information: